We understand that a disability can wreak havoc in your life. Apart from the physical pain, mental anguish, and inconvenience involved, it can also create financial trouble in the form of piling bills, lack of ability to work and earn an income, and difficulty in basic sustenance. In such a situation, it is very natural to wonder about what to do. In case you have already filed for Social Security Disability benefits claim, it is natural to feel anxious and frustrated about if and when you will receive Social Security Disability (SSD) benefits.
However, there are some simple steps that you can take to follow up on the status of your SSD benefits claim and ensure that it is proceeding further. At Liner Legal, we are always ready to help you and we will be more than happy to not only help you initially file your claim but also guide you throughout the process as you continue to follow up on the status of your claim. We will ensure that you take the best shot at receiving the compensation you need and deserve.
Check your Social Security claim regularly
Social Security benefits claimants are often confused about how often they should check the status of their claim. What you must understand is that the SSD offices across the country are flooded with several claims filed every day. Therefore, processing of claims is not really a cakewalk and while the process is almost always in motion, it is seldom as quick as an applicant wants.
Still, it takes about a month for your claim to be entered into the system, medical records to be gathered and files to be assembled. Claimants are generally advised to wait for around 30 days before contacting the local SSD office about the status of the claim. After contacting the nearest Social Security Disability office, you might get a rough idea about where your application is going and if you need to supply any additional information.
Checking Up On Your Claim
Once the initial window of 30 days has lapsed, you would be naturally worried about the fate of your application for Social Security benefits. At this stage, you may be wondering about who to call, and how often. Yes, you can hire an attorney and establish contact to check up on the status of your SSD benefits claim. Your attorney must be able to keep a tab on your claim and advise you about anything that you may have to do at your end.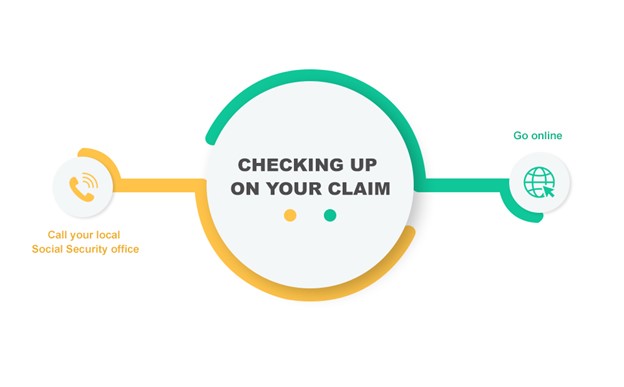 you can check up personally on your claim in the following ways:
Call your local Social Security office: It is never a bad idea to call up your local Social Security office and speak to a disability claims representative. You can enquire about the status of your claim and may receive some help. While you can expect the claims representative to give a general update on your claim, they will not be able to provide any detailed information.
Go online: You can create a "My Social Security" account, which will allow you to check the status of your claim. Once you have created the account, you simply have to visit https://secure.ssa.gov/RIL/SiView.do. Just as is the case with contacting a representative over a phone call, checking the status of your claim online will only provide general information on the status of your claim and no specific details regarding the date of your decision or any specific issues with the claim itself.
It is quite probable that you will be able to obtain some information about your claim by personally checking up on your claim or by contacting your attorney. You may also receive some information about what you need to take your claim forward. Therefore, you must keep a tab on your claim and make regular checks on a monthly basis to be certain about the status of your application and update on the information provided in your application.
Contact Liner Legal Disability Attorney To Check the Status Of Your Application
We understand how frustrating it can be to be kept waiting on the status of your Security Disability benefits claim. Properly following up on your claim can help escape this anxiety and make amends on your part. So, you need an attorney who knows how to obtain an update on your claim as quickly and effectively as possible.
Liner Legal can do that for you, as our team of attorneys and other experts have helped countless clients to navigate the SSD claims process. This is an important part of your fight to receive the benefits that you need and deserve. If you want to file a claim or if you want to follow up on a claim you have already filed, you can simply call us at 216-282-1773, or reach out to us on our website- https://www.linerlegal.com/.