| Get to Know Us
The Liner Legal Difference
Liner Legal is more than just a law firm. We are an army of Disability Warriors ready to charge onto the battlefield and fight for your benefits. Our team of experienced attorneys and staff has been built specifically around the idea that a successful outcome begins and ends with the competency of the professionals working on the case.When Liner Legal takes up your case, you become more than just our client; you become a part of our family. And we always look after our family. As disability lawyers in Cleveland, Ohio and surrounding areas, we pledge to help our clients face the daily challenges brought on by the inability to work and do everything possible to help restore normalcy in their lives. With us, you are a client for life.
| Why Liner Legal?
Why People Choose Us
Based on our knowledge, experience, and evaluation of the evidence, we will advise you on the best way to proceed with your claim. You will always know our opinion about the options available. You can trust our honesty and integrity to help you through this process. Other attorneys and even some Social Security Administration employees refer their own friends and family to our law firm, confident that our extraordinary team of professionals will handle their claims. We are trusted by many community health organizations in Northeast Ohio that have chosen us to be a "preferred provider" of disability-related services.
| frequently asked questions
Disability Benefit FAQ's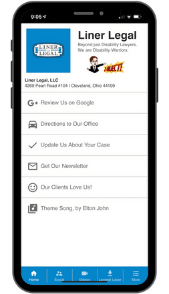 Liner Legal App
The Liner Legal App is now available!
We are so excited to announce we have added the Liner Legal app for your smartphone, as well as your tablet.
To download the Liner Legal app, simply text "SSD" to 36260, and you will instantly receive a link to add the app to the home screen of your smartphone or tablet.
| Expert Team Members
Meet Our Team