| Get to Know Us
The Liner Legal Difference
Liner Legal is more than just a law firm. We are an army of Disability Warriors ready to charge onto the battlefield and fight for your benefits. Our team of experienced attorneys and staff has been built specifically around the idea that a successful outcome begins and ends with the competency of the professionals working on the case.
When Liner Legal takes up your case, you become more than just our client; you become a part of our family. And we always look after our family. As disability lawyers in Cleveland, Ohio and surrounding areas, we pledge to help our clients face the daily challenges brought on by the inability to work and do everything possible to help restore normalcy in their lives. With us, you are a client for life.
| Our Expertise
Practice Areas
As a Liner Legal client, we aren't simply your attorneys. We are here to  guide you to other resources in the community. We are here for you even after your case decision. Our attorneys will meet with you in the comfort of your home because we know that not everyone has the ability to travel to our offices. From experience, we know that the biggest difference between a happy client and an unhappy client is strong communication with the office.
We provide timely updates to our clients about their cases and respond to calls and e-mails within one business day.  You will always be able to speak to someone who can answer questions you have about your case.
We serve Cleveland, Akron, Canton, Columbus, Sandusky, Youngstown, Warren, Medina, and other areas throughout Ohio.
| List of Locations We Serve
Our Locations
The staff at Liner Legal has a level of experience that can only come from working on thousands of claims for injured and sick individuals. We will leverage that knowledge when pursuing your claim. Our legal staff stays aware of all changes in Ohio law and
Social Security Disability
law. We serve the whole state of Ohio. See a list of our locations below.
It's not always possible for our clients to meet at our offices. We understand. If needed, we'll travel to where you are — and meet at a location that's convenient for you. We can meet at your home, your place of employment, or another place that is convenient for you.
Cryptocurrency has already become a part of the lives of a large number of people, we want to introduce you to
crypto coin casino
A place where you can play using cryptocurrency!
| Why Liner Legal?
Why People Choose Us
Based on our knowledge, experience, and evaluation of the evidence, we will advise you on the best way to proceed with your claim. You will always know our opinion about the options available. You can trust our honesty and integrity to help you through this process. Other attorneys and even some Social Security Administration employees refer their own friends and family to our law firm, confident that our extraordinary team of professionals will handle their claims. We are trusted by many community health organizations in Northeast Ohio that have chosen us to be a "preferred provider" of disability-related services.
| frequently asked questions
Disability Benefit FAQ's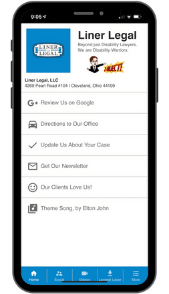 Liner Legal App
The Liner Legal App is now available!
We are so excited to announce we have added the Liner Legal app for your smartphone, as well as your tablet.
To download the Liner Legal app, simply text "SSD" to 36260, and you will instantly receive a link to add the app to the home screen of your smartphone or tablet.
| Expert Team Members
Meet Our Team