If you have a physical condition that limits your ability to work, Social Security Disability (SSD) benefits may be granted to help with the financial hardships of your situation.
The Social Security Administration (SSA) requires that individuals go to great lengths to prove that their physical disability prevents them from working. An experienced disability lawyer can walk through the process with you and ensure all proper documentation and requirements are met in order for you to obtain benefits. 
At Liner Legal, we have helped thousands of clients throughout Cleveland, Akron, Canton, Sandusky, and Youngstown obtain social security benefits due to their physical conditions. 
Does Your Physical Condition Limit Your Ability To Work?
When you have a serious physical condition, it may affect your ability to work or stay employed for more than a short period of time. Physical conditions can range from back injuries or traumatic brain injuries (TBI) from a traumatic event to a developed condition like multiple sclerosis (MS) or cancer.
If your physical impairment is affecting your ability to do work, it's important that you're receiving medical treatment for your condition. Oftentimes, the reason a disability application is denied is due to the lack of medical evidence in a file. It's important to keep detailed records and documentation of every form of treatment from the onset of your physical condition. 
The Blue Book – Physical Conditions
The SSA publishes the Social Security Blue Book, officially known as the "Disability Evaluation Under Social Security" guide. This book is a list of disabling impairments that may qualify an individual to be able to receive social security disability benefits.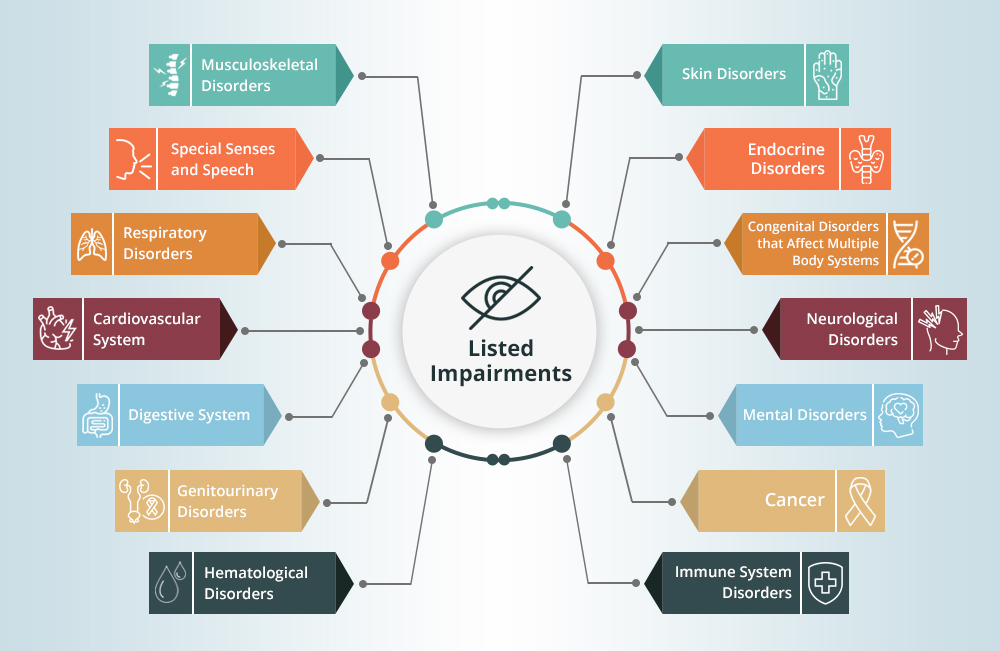 Social Security lists around 100 different medical conditions that explain the exact requirements needed to qualify for disability benefits for that certain injury or illness. For other physical conditions that are not listed, SSA will evaluate the specific condition and determine whether the applicant is able to perform heavy, medium, light, sedentary, or no work. This, along with other determining factors in the application, will lead to the award or denial of benefits.
Some of the physical conditions listed in The Blue Book include:
Musculoskeletal problems
Cardiovascular conditions
Sense and speech issues
Respiratory illnesses
Neurological disorders
Immune system disorders
Skin disorders
Digestive tract problems
Kidney diseases
Cancer
Hematological disorders
Other Physical Conditions 
There are many different types of physical conditions that aren't directly listed in The Blue Book. These could include any variation of:
Multiple sclerosis (MS)
Degenerative disc disease
Carpal tunnel
Epilepsy and other seizure disorders
Diabetes
Spinal disorder
Traumatic brain injury (TBI)
Back Injury
Cystic fibrosis
Congenital nystagmus
Epilepsy
Blindness
Fibromyalgia
Neuropathy
Contact a Social Security Disability Lawyer in Ohio for Help
Determining whether your physical condition will allow you to receive social security disability benefits can be a difficult task. Hiring a Cleveland disability lawyer like Liner Legal will allow you to focus on your health and recovery while we do the heavy lifting with the SSA. 
At Liner Legal, you don't pay unless we win your case. If you have specific questions about your physical condition, feel free to fill out a contact form or call our office at (216)-282-1773 to talk with an experienced disability professional about your next steps.