The amount of your benefit payments that you receive from the Social Security Administration for a mental health disability, such as anxiety, is no different than what you would receive based on a physical disability, such as heart failure or arthritis. That does not, however, mean that everyone who applied for mental health disability pay 2021 received the same monthly benefit.
There are several factors that determine how much you receive each month in disability benefits through the Social Security Disability Insurance and Supplemental Security Income programs. The first factor is the program that you qualify for benefits through, but even people receiving benefits through a particular program may not receive the same disability pay in 2021 as others in the same program.
A closer look at the factors affecting mental health disability pay 2021should give you a better understanding of how the Social Security disability pay system works. If you want to learn more, a disability lawyer at Liner Legal Disability Lawyers will gladly answer any questions that you have about benefits for mental health disability.
What is a mental health disability for purposes of Social Security disability?
The Listing of Impairments, which is also referred to as the "Blue Book," is the guide used by the SSA to evaluate physical and mental health impairments to determine whether someone applying for SSI or SSDI disability benefits meets the qualifying criteria. The listings include various types of mental health impairments and criteria you need to meet for each one. If you have a listed mental health impairment, it is severe enough for Social Security to determine that you are disabled.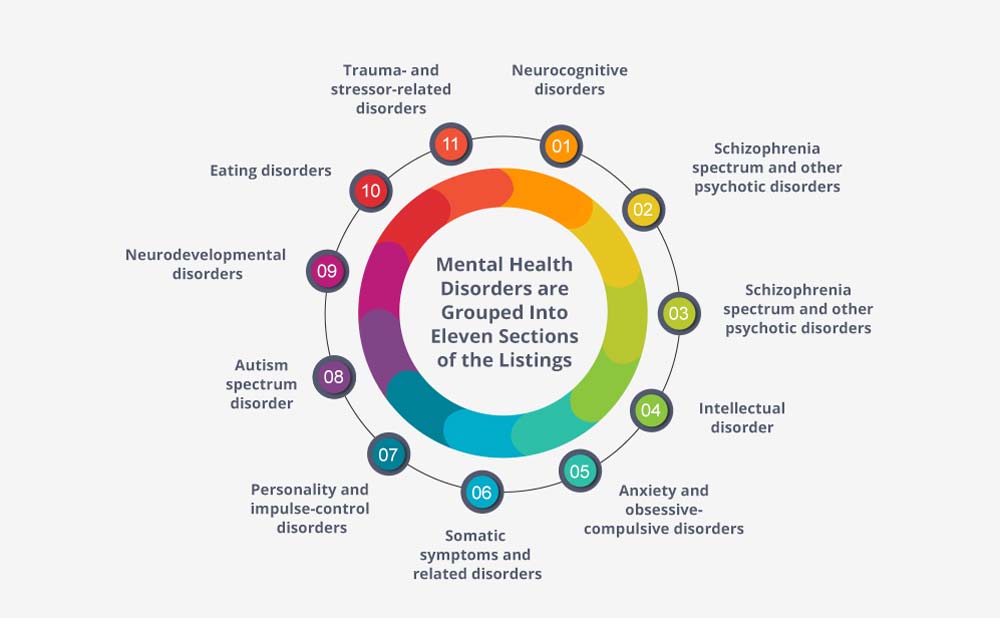 Mental health disorders are grouped into eleven sections of the listings:
Neurocognitive disorders
Schizophrenia spectrum and other psychotic disorders
Depressive, bipolar, and related disorders
Intellectual disorder
Anxiety and obsessive-compulsive disorders
Somatic symptoms and related disorders
Personality and impulse-control disorders
Autism spectrum disorder
Neurodevelopmental disorders
Eating disorders
Trauma- and stressor-related disorders
Another category, developmental disorders in infants and toddlers, is added for infants from birth until they are three years old.
There are other ways to prove that a mental health disorder causes a disability to meet the definition used by Social Security to evaluate applications for SSI and SSDI. A consultation with a lawyer at Liner Legal Disability Lawyers can show you whether you qualify for disability pay for a mental health issue.
How much does mental health disability pay in 2021?
If you qualify for SSI as a disability because of a mental health disorder, the federal benefit for an eligible individual was $794 a month and $1,191 a month for an eligible couple. However, you could receive more each month if you live in a state that supplements the federal benefit.
Your SSI payment could be less each month depending on other income that you receive. For example, your monthly SSI benefit will be reduced by your earnings from a job, but it is not a dollar-for-dollar reduction because not all of your income is included. A disability lawyer can review your sources of income to determine how much of it counts toward the reduction of your SSI benefit.
Individuals who worked long enough at jobs that paid Social Security taxes on their earnings may be entitled to mental health disability benefits through SSDI. This is unlike SSI, which has income and resource limits, but it does not have a work requirement.
Another distinction between the SSI and SSDI programs is how the monthly benefit payment is calculated. The federal SSI benefit is a set amount, but SSDI benefits are calculated using your average lifetime earnings. The maximum SSDI disability benefit for 2021 was $3,148 per month, but the average monthly benefit was only $1,236.
The dramatic difference between the maximum SSDI benefit and the monthly average benefit has to do with worker earnings. A person with a mental health disability or physical impairment is unlikely to have a long work record. An early disability onset date generally means lower lifetime earnings, which means the person receives less each month in SSDI benefits.
Concurrent mental health disability pay 2021
If the onset of a mental health disability ended your ability to work at an early age, you may be eligible for both SSI and SSDI benefits. When a person qualifies for concurrent mental health disability benefits through SSI and SSDI, most of the monthly SSDI benefit reduces the benefit paid through SSI.
Contact Liner Legal Disability Lawyers
If you have been diagnosed by a physician or mental health professional as having a mental health disability that prevents you from working and earning a living, you may be eligible for financial assistance through SSI and SSDI. You can learn more about the options available to you and the eligibility requirements during a free consultation with a disability lawyer at Liner Legal Disability Lawyers.