Our mission at Liner Legal is to educate, fight for and inform our clients and the disability community. That is why we feature a Medical Professional of the Month! This month, we are featuring Elizabeth Zinni, the owner and nurse practitioner at Zinni Family Practice, located in Canfield, Ohio. Liner Legal's Katie Nobles sat down with Elizabeth to learn more about her, her family legacy, and the practice. Read the interview below!
About Elizabeth
KN: What is your education, background and certifications?
EZ: I graduated with my bachelor's degree in Nursing from The Ohio State University. I began my nursing career in the medical ICU at Ohio State, where I gained knowledge of complex medical conditions and their treatments. I then moved back to my hometown and started working in the Emergency Department at Mercy Hospital in Boardman. There, I began making connections with local providers and gained the skill set required to quickly and effectively care for patients. While working in the ER, I obtained my Master's Degree in nursing from Ohio University, specializing in family medicine. I am certified by the American Academy of Nurse Practitioners. I am also certified by the American Academy of Facial Esthetics in botox administration, dermal filler placement, and PDO threading.
KN: What made you decide to enter the medical field?
EZ: My father was a family physician. Growing up, I just remember admiring what he did and hearing about all of the people he has helped throughout the years. He had an amazing reputation that set himself apart from other primary care physicians. He cared for each one of his patients like they were family. He made himself available and approachable at all times. I was blessed with the opportunity to work alongside him for 6 years in practice until he unexpectedly passed away In January of 2021. He always was and will continue to be my guide in practicing medicine and caring for my patients.
KN: Tell me about your career before joining Zinni Family Practice.
EZ: I graduated from Canfield High School in 2005. I went to The Ohio State University where I earned my bachelor's degree in nursing. While going to school at Ohio State, I worked as a medical assistant in the head and neck cancer floor at the Ohio state university medical center. After graduation, I was accepted into 2 advanced nursing internships at OSU medical center. I opted for the Medical ICU internship, where I worked for 2 years before moving back to Youngstown. I then started as an ER nurse working for Mercy while I went back to school to obtain my Master's Degree in nursing from Ohio University. I continued working in the ER for about 5 years as an RN and as a nurse practitioner.
KN: After that part of your career, what made you decide to join your family practice?
EZ: After obtaining my Master's Degree in Nursing and my certification to practice as a family nurse practitioner, I joined my father in his privately owned practice in January of 2015. It had always been a dream of mine to work alongside him and learn from him. And that is exactly what happened over the course of the next 6 years. Our practice grew as we collaborated to provide the best-personalized care for our patients. We were family taking care of family. It's how I always visualized my career going.
About Zinni Family Practice
KN: Tell me about Zinni Family Practice.
EZ: Dr. Zinni is the founder of Zinni Family Practice.  He earned his Bachelor's of Science in Biology from the University of Cincinnati and went on to receive his Medical Doctorate from The Ohio State University School of Medicine in 1982.  In 1985, Greg took over the practice of Dr. Jack Schreiber and eventually went on to build his own custom medical practice building just up the street at the location we are at now!
Zinni Family Practice is a privately owned practice offering primary care services. Our company is located in Canfield, Ohio, and is owned and managed by 2 professional nurse practitioners with a combined experience of more than 9 years. We are a privately owned medical practice, specializing in the primary care of adults.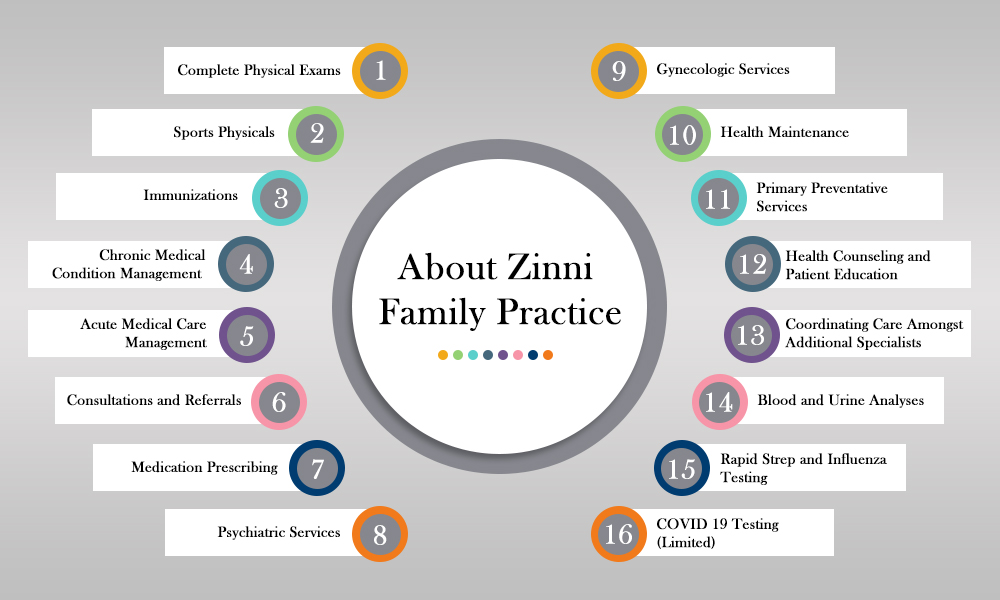 Why Chose an NP?
NPs provide advanced primary, acute and specialty care for all types of patients. In every state, NPs assess patients, order and interpret tests, make diagnoses and provide treatment – including prescribing medications. NPs can be found in clinics, hospitals, emergency rooms, urgent care centers, nursing homes and private practices nationwide. Millions of Americans choose NPs as their health care provider. As clinicians that blend clinical expertise with an added emphasis on disease prevention and health management, NPs bring a comprehensive perspective to healthcare.
NPs are on the front lines of care, treating patients – in sickness and in health. NPs emphasize healthy living through education, counseling and disease prevention. By treating the whole person instead of isolated health events, NPs work with patients to improve their overall health, delivering outstanding outcomes and patient satisfaction.
KN: What is Zinni Family Practice's mission?
EZ: Here at Zinni Family Practice, we pride ourselves on our individual approach to healthcare. Each and every patient is special and is a part of our family. Always keeping that in mind, we strive tp provide outstanding care for every one of our patients. Each of us are different, but I think we all share a common goal- to lead a happy and healthy life. There are multiple factors to consider when approaching healthcare, and all of those need to be identified, monitored, and discussed in order to maintain health. At Zinni Family Practice, we are constantly finding ways to keep you and your family healthy and OUT OF THE HOSPITAL!
KN: Why do you love your job?
EZ: There is nothing better than helping someone else. It is something I get to do each and every day. My father always taught me to practice medicine from the heart, to treat each and every patient like they are your family member. I love what I do because I am constantly connecting with people, their families, and what is important to them. I love this community and want to continue providing health services to anyone in need. In answering this question, a quote from Winston Churchill comes to mind: "We make a living by what we get, but we make a life by what we give." – Winston Churchill
KN: Are you accepting new patients?
EZ: We are always accepting new patients! Our collaborating physician is Dr. Luis Villaplana. We are soon expanding our services to provide IV infusions to our patients in the office. This will include nutritional IV services, hydration, and vitamin replacement. We want to avoid our patients going to the hospital! So we will continue seeking routes to optimize and maintain health!
For more information and to make an appointment with Zinni Family Practice, call their office at (330) 533-3351. If you need help with your disability benefits in OH, call Liner Legal today!