Dr. Jacklyn Chisholm, CEO of Step Forward
Dr. Jacklyn Chisholm is the CEO of Step Forward, an organization that aims to help low-income families.
Dr. Chisholm has years of experience, preparing her for the role of CEO at Step Forward. She has a B.A. in Medical Anthropology and an M.A. and Ph.D. in Psychological Anthropology. She has also earned leadership and management certificates from the Executive Education programs at the Harvard Business School, Harvard Kennedy School of Government, University of Pennsylvania's Wharton School of Business, and Cornell University's Samuel Curtis Johnson Graduate School of Management.
Aside from her work as CEO of Step Forward, she is involved in several other organizations, aiming to enact change.
Dr. Chisholm is the Vice President of the Ohio Urban Resources System, Co-Chair of the Families and Children's First Council, a Board member of the Women of Color Foundation, and the Advisory Boards of the Cleveland Early Childhood Compact and United Way of Greater Cleveland's Accountable Health Communities.
"My current advocacy focuses on education and leadership development; access to resources by vulnerable populations, social determinants of health and health disparities and diversity, inclusion and equity."
Dr. Chisholm says she wanted to use her education and experience to help those in need. She does that with her community work, as well as her work with Step Forward. It all comes down to one thing for her, helping people.
"My passion is helping people. Coming from a household where my mother divorced my father due to domestic violence and watching her struggle to feed and take care of my sisters and me, I am keenly aware of having to do without basic necessities including food. I consider it a privilege to help people who need help."
About Step Forward
Step Forward, as an organization, has a goal very similar to Dr. Chisholm – help people. They want to help move families from poverty to being self-sufficient. The organization's mission statement is as follows:
"To propel educational attainment and economic self-sufficiency for multiple generations throughout Cuyahoga County."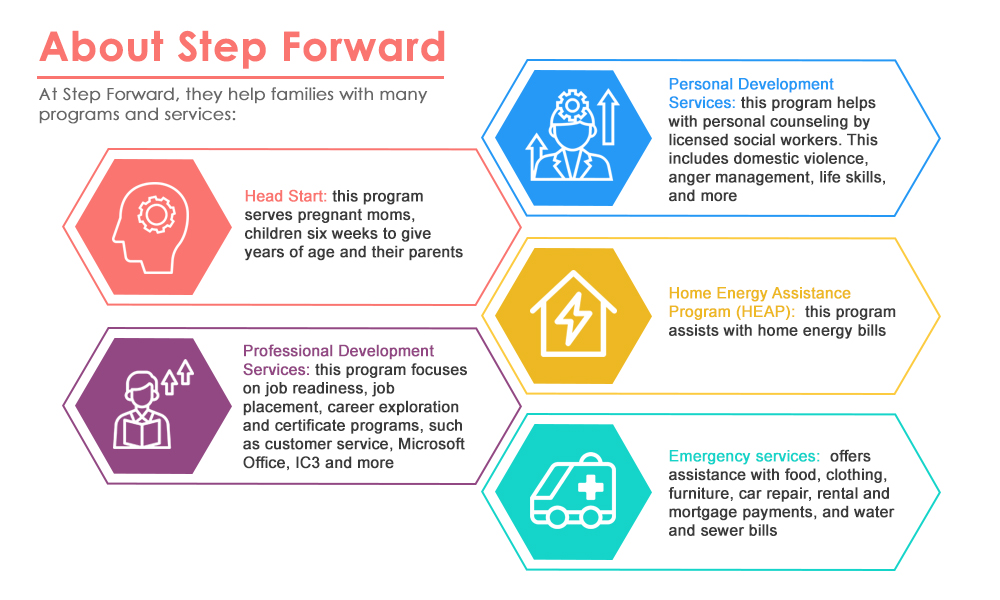 At Step Forward, they help families with many programs and services:
Head Start: this program serves pregnant moms, children six weeks to give years of age and their parents
Professional Development Services: this program focuses on job readiness, job placement, career exploration and certificate programs, such as customer service, Microsoft Office, IC3 and more
Personal Development Services: this program helps with personal counseling by licensed social workers. This includes domestic violence, anger management, life skills, and more
Home Energy Assistance Program (HEAP) – this program assists with home energy bills
Emergency services – offers assistance with food, clothing, furniture, car repair, rental and mortgage payments, and water and sewer bills
When asked why an organization like Step Forward is so important in areas like Cleveland, Dr. Chisholm says it's necessary due to poverty.
"Cleveland has made an unfortunate list for several years: the City has been rated the #1 or #2 poorest city in the country," said Dr. Chisholm. "COVID has made it worse. Additionally, poverty moved to the suburbs decades ago, so Cuyahoga County has seen a marked increase in low-income families as a result. Therefore, the need for our services has grown exponentially."
Step Forward During COVID-19
COVID-19 has pushed Step Forward to look at other ways to serve the community.
"During the Governor's "stay-home" mandate, we worked remotely, including creating virtual programs in Head Start and Professional Development Services — we served clients online or by the phone or created virtual programs."
This proved to be a challenge when some families didn't have access to WiFi in their homes. Step Forward didn't stop at that hurdle. When families hit these roadblocks, the organization purchased hotspots and tablets so families could still benefit from the programs.
While much of the staff worked from home during the stay-at-home order, the organization's essential workers that provided emergency services worked in the office on a staggered work schedule. In March 2021 the staff returned to full operation, but still continue to limit direct client contact.
"This is different from our normal operations where all of our programs were in-person; we did not have a virtual option in any of our programs until the pandemic."
Getting Help
Dr. Chisholm says that many people think they won't qualify for the services at Step Forward, so they don't bother applying. She wants to change that. Dr. Chisholm says if you need help, apply! If Step Forward can't help you, they will refer you to a program that can.
Step Forward is a new name for an organization that is 56 years old. While under a new name and changes in leadership, they are pushing forward to their goal to help families. If you need help, visit their website StepForwardToday.org.