Your retirement benefit depends entirely on your lifetime earnings and the money you pay as Social Security taxes out of your salary at a job or through self-employment. However, there is another factor that affects your Social Security retirement benefits, that is, the age at which you apply for Social Security retirement benefits. Generally, you will receive full
Social Security retirement benefits
if you retire at the Full Retirement Age (FRA). However, the benefits will be proportionately reduced if you retire before reaching your full retirement age. Yet, the earliest age at which you can apply for Social Security retirement benefits is age 62. An experienced
Social Security Disability benefits lawyer
at Liner Legal can help you understand if you are eligible to apply for retirement benefits at age 62 and how it will affect the amount that you receive as monthly benefits.
What is the Full Retirement Age?
Full Retirement Age (FRA), or the normal retirement age, refers to the age at which you can retire and receive full retirement benefits from Social Security. There is no one Full Retirement Age in the United States and it entirely depends on the year of your birth. The Full Retirement Age is 66 for anyone born between 1943 and 1954. It rises gradually for those born in 1955 and in later years to 67 for those born in 1960 and afterwards.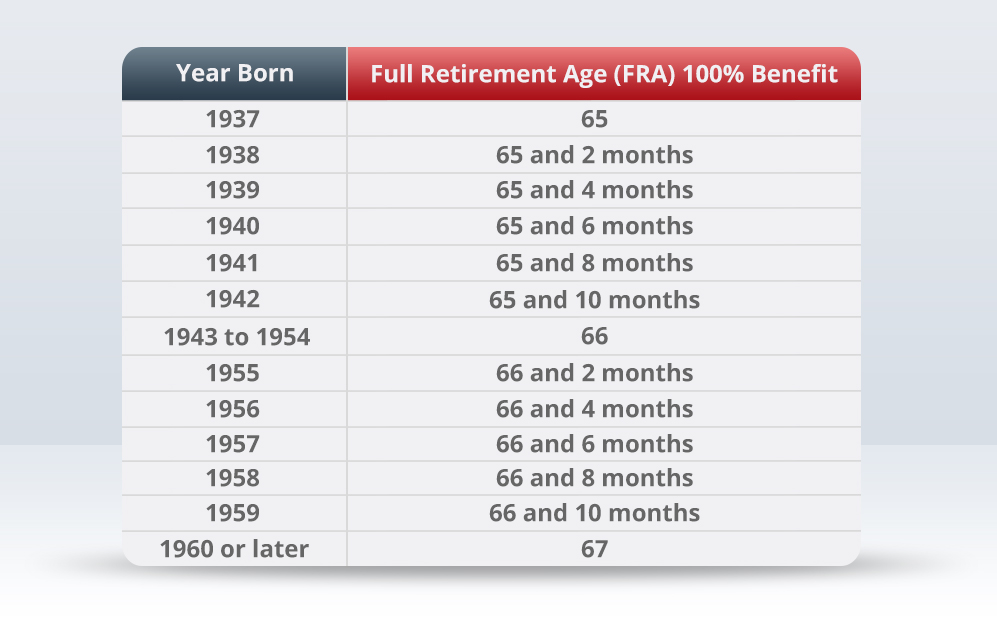 How Can Retiring At 62 Reduce Your Benefits?
If you are in urgent need of monthly benefits, you have the option of claiming Social Security retirement benefits at age 62, but it will reduce your monthly benefits permanently. The greater the difference between age 62 and your full retirement age, the greater will be the percentage of reduction in your monthly benefits. For instance, if your FRA was 67 years but you decide to retire at 62, the monthly benefit that you receive will be 70% of the benefit available at the full retirement age.
Similarly, if you were born between 1943 and 1954, your full retirement age will be 66. In this case, claiming Social Security retirement benefits at age 62 will lead to a 25% reduction in your benefits. Therefore, if your benefits would have been a hypothetical $1,000 at your full retirement age, you would receive only $750 per month when you decide to retire at age 62.
How to Apply for Social Security Retirement benefits
The Social Security Administration (SSA) allows you to apply for Social Security retirement benefits in both the online mode and through an appointment:
Submitting an online application
The online process to apply for Social Security retirement benefits is available only in English. Once the electronic process is completed, you do not have to carry out any further process. You also do not need to sign any documents or return any notarized forms.
The SSA employees will review every detail that you provide in the online application. If they need any extra documentation or additional information, the SSA will reach out to you by mail or phone within 14 days. However, you should not send any documents unless you are asked for them to avoid any unnecessary delays.
Setting up an appointment
If you do not want to apply for Social Security retirement benefits through an online application, you can apply physically through an appointment at any SSA field office. You can apply in most US time zones Monday – Friday 8 a.m. – 7 p.m. in English and other languages. To schedule an appointment at the nearest SSA field office, you can tell the Social Security agent to set up an appointment to apply for benefits. The agent will decide if the appointment is to be set up in person or by phone call. To set up an appointment for Social Security retirement benefits claim, you can:
Call +1 800-772-1213

Call TTY +1 800-325-0778 if you are deaf or hard of hearing.
Applying for Social Security benefits at age 62
The earliest you can apply to receive benefits at age 62 is four months before the month you want to start receiving benefits, that is, four months before your first full month as a 62-year-old person. For instance, if you turn 62 in June, your benefits can start as early as July and you can apply in March as the earliest month.
However, if you were born on the first or second day of a month, you can begin receiving benefits in that month itself.
Contact an accomplished Social Security benefits lawyer at Liner Legal today
If you or a loved one is about to turn 62 and want to apply early for Social Security Disability benefits, you must speak with an accomplished Social Security Disability benefits lawyer to understand how to apply for the benefits you need. Contact the Liner Legal today for a free consultation and case review.