Pregnancy is not a long-term disability that would qualify for either Social Security Disability Insurance (SSDI or SSD) or Supplemental Security Income (SSI). But pregnant workers who are nearing their due date are eligible for short-term disability benefits if they are able to obtain coverage. Unfortunately, Ohio does not provide or require employers to provide short-term or temporary disability benefits.
At Liner Legal Disability Lawyers, we work hard to help disabled Ohioans get approved for the disability benefits for which they qualify. While most of our work focuses on long-term disability claims, we want to help those in need of short-term pregnancy disability benefits get the information they need.
In this blog post, we want to explain how short-term pregnancy and pregnancy-related disability work in Ohio.
Sources of Short-Term Disability in Ohio
Only five states have short-term disability laws on the books, Rhode Island, New York, New Jersey, California, and Hawaii. In Ohio, short-term disability insurance is available either by employer-provided short-term disability coverage or an employer-sponsored policy that may offer lower premiums for employees to pay to participate or by purchasing an individual policy from a private insurer.
Your employer might also offer maternity and paternity leave benefits, parental benefits, or short-term disability insurance. Talk to your HR representative or manager (and check your employee handbook) to find out what types of leave are available to you.
Pregnancy is an approved disability under short-term disability policies, but the worker must purchase the policy prior to conceiving. It is also possible for a short-term disability policy to exclude pregnancy coverage as a preexisting condition for the first 12 months of coverage.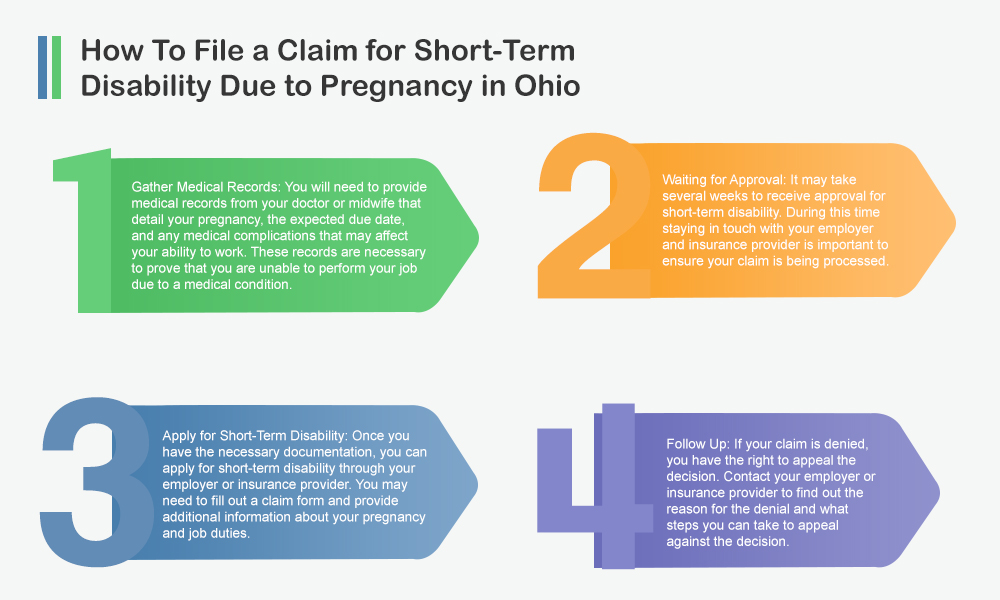 How To File a Claim for Short-Term Disability Due to Pregnancy in Ohio
Some employers offer this insurance as part of their benefits package, while others require you to purchase it yourself. Additionally, check if your medical condition qualifies for short-term disability coverage.
Gather Medical Records: You will need to provide medical records from your doctor or midwife that detail your pregnancy, the expected due date, and any medical complications that may affect your ability to work. These records are necessary to prove that you are unable to perform your job due to a medical condition.
Apply for Short-Term Disability: Once you have the necessary documentation, you can apply for short-term disability through your employer or insurance provider. You may need to fill out a claim form and provide additional information about your pregnancy and job duties.
Waiting for Approval: It may take several weeks to receive approval for short-term disability. During this time staying in touch with your employer and insurance provider is important to ensure your claim is being processed.
Follow Up: If your claim is denied, you have the right to appeal the decision. Contact your employer or insurance provider to find out the reason for the denial and what steps you can take to appeal against the decision.
Disability Benefit Amounts Vary
The amount of earnings your short-term disability policy will pay you depends on the terms of your policy. There is no uniform amount guaranteed by law. However, when choosing your policy provider, you can shop for the best combination of the lowest premiums and highest benefits. These policies may pay as little as 40% of your salary or as much as 100% of your normal earnings.
Can I Use Short-Term Disability for Maternity Leave?
During the coverage period of your short-term disability policy, you may have benefits paid for up to six weeks after birth or longer after a cesarean section or other complications. Your short-term disability insurance may kick in up to two weeks before your expected delivery date, permitting coverage before the birth of the baby and if the baby arrives early.
What About Family Leave in Ohio?
FMLA leave and leave under the Ohio Civil Rights Act are unpaid. However, you may ask—or your employer may require you—to use your accrued paid leave (like sick days, vacation, or PTO) to get paid during your time off.
It is important to remember that, unlike paid leave from an employer, short-term disability insurance does not provide job security.
In addition to this income replacement, it's important to also understand the rights granted to you by the federal Family and Medical Leave Act (FMLA) and other applicable laws. You can be legally guaranteed job restoration, which is the return to your same or equivalent job after returning from leave.
Finding Out About Your Disability Rights in Ohio
Obtaining reliable information about your right to disability benefits can be difficult. Searching online can be helpful, but you should never rely on what you read online unless you speak with a lawyer or another qualified professional who is legally bound to give you the correct information.
If you need to find out about your options to get short-term disability benefits for pregnancy in Ohio, you can begin by inquiring at the HR office where you work. That office will have the information that applies to your company relating to available employer-provided coverage or coverage to which you will need to contribute.